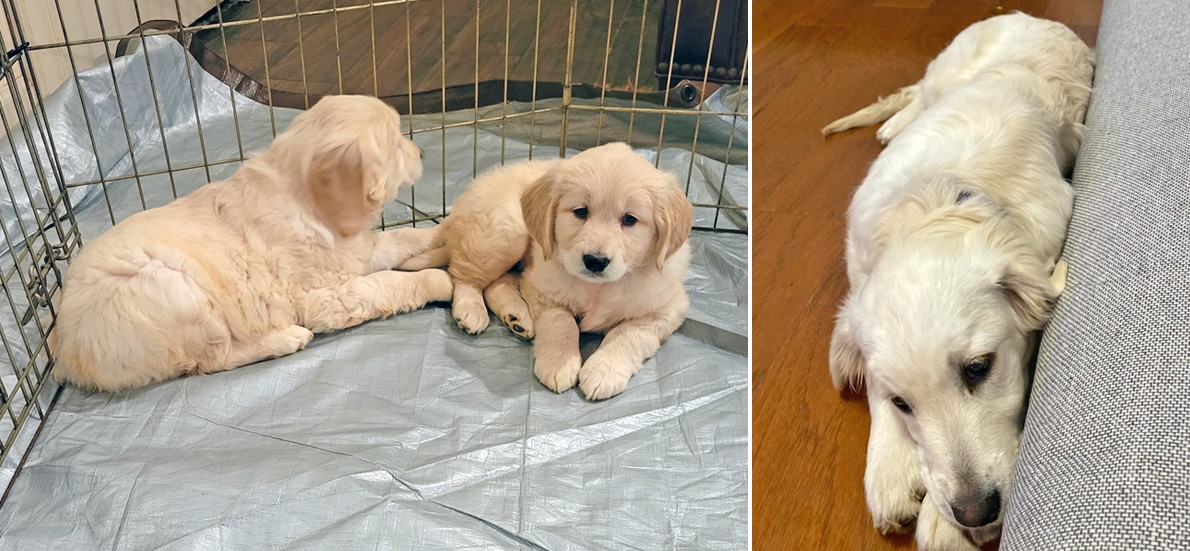 Please welcome Olive, Truffle & Risotto pups!
These 3 puppies were all diagnosed with Parvo.
AGA took in 10 dogs from a breeder who was getting out of the business of breeding golden retrievers.  Naturally, AGA welcomed them all with open arms.  Fosters were found for all the dogs ranging in age from 8 weeks to 3 years old.  As with most breeder dogs, they were scared and stressed because they have no idea what is happening.  Little do they know that their life from that moment on will only get better.
The next day, most all of the dogs visited our vets.  Overnight some of the dogs had some health issues which could have been stress related but no one would know until they go to the vet.  Well, the two 8-week old puppies (Olive & Truffle) both tested positive for Parvo so off they go to the emergency vet to be treated.  A third puppy, Risotto, the 4-month old, also tested positive at the vet and off she went to the emergency vet.  Risotto, stayed at the vet for 2 days and tested negative for Parvo three times so she was released.  Unfortunately, Risotto started showing signs of parvo days later and ended up back at the emergency for another 4 days.
Olive & Truffle were treated for Parvo at the emergency vet and released after 3 days to an amazing foster who took on quite a task with these two pups.  As they began to feel better, every bit of their puppy energy has surfaced.  We're happy to say that they both made it through with flying colors and are on their way to finding their forever home.
Risotto is also on her way to feeling better as her foster has confirmed that her puppy energy is in full force as well.  She's not quite ready yet to be adopted but she is well on her way to a full recovery.
As a rescue, we will go above and beyond to help the dogs we bring in.  The only way this is possible is with the unbelievable support we get from people like you.  Our vet bills for these 3 precious girls exceed $12,000.
Please consider a donation to cover the medical expenses that we have for so many of our goldens, now and in the future.
We thank all of our wonderful donors:
Tracy Marye                                      Nancy Martin
Julie Baldwin                                    Connie Kicha
Agnieszka Wesolowski

IF YOU'RE LUCKY - a golden retriever will come into your life, steal your heart, and change everything


Thanks for all of your support! As of today, we have raised $

1240

to help this operation.