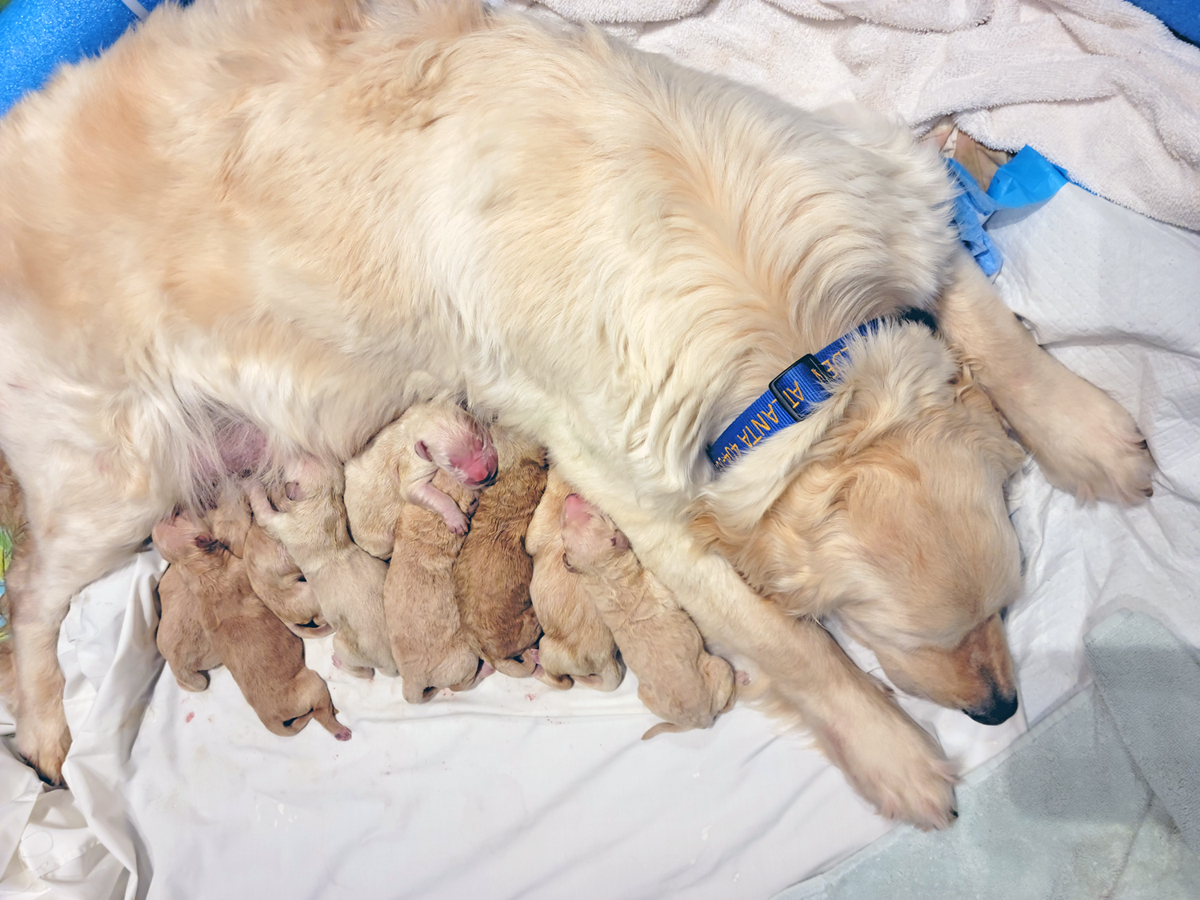 Meet Bella, our beautiful mamma, and her puppies!
Bella's road wasn't an easy one
Bella came to AGA, along with 7 other dogs, at the end of February from a breeder who was closing down.  We were told that Bella and Sky (another golden from this breeder) may very well be pregnant but it was too early to tell.  Fast forward another month and sure enough, both Bella & Sky were pregnant and due about a week apart with Sky's pups coming first.
Sky's puppies made their debut into the world on Friday, April 8th - 9 total puppies: 4 male & 5 female.  All healthy and thriving, along with mamma Sky.  Bella debuted her puppies on Wednesday, April 13th with 9 puppies as well: 5 females and 4 males.  Bella continued to have contractions for a couple of hours after the ninth puppy came so we didn't know if there was another puppy in there or not, so off we go to the Emergency Vet (puppies in tow because this mamma wasn't leaving her pups behind) to make sure there were no other puppies inside.  Thankfully, all was clear and after a couple of hours Bella got to go home.
Everything was going well for 8 days when the amazing foster mom noticed that Bella wasn't feeling well.  She was vomiting and had diarrhea, so off to the vet she goes.  She spent the night at the vet and received fluids, vitamins and a shot of Cerenia to feel better so she can get back home to her puppies.  Her diet was changed to a prescription food and she was slowly getting back to feeling better.
May 2nd, again Bella's foster mom, Stephanie, noticed that Bella wasn't comfortable when her pups were feeding on her.  Back to the vet she goes where she is diagnosed with mastitis (inflammation of a mammary gland - breast).  Unfortunately, at this time Bella had to be separated from her babies and they all had to be bottle fed going forward.  Bella went to another foster where after two days she had an abscess that burst in a mammary gland which brought her to the Emergency Vet one more time.  The whole time, this beautiful girl never stopped wagging her tail and needless to say everyone who met her fell in love with her - not hard to do!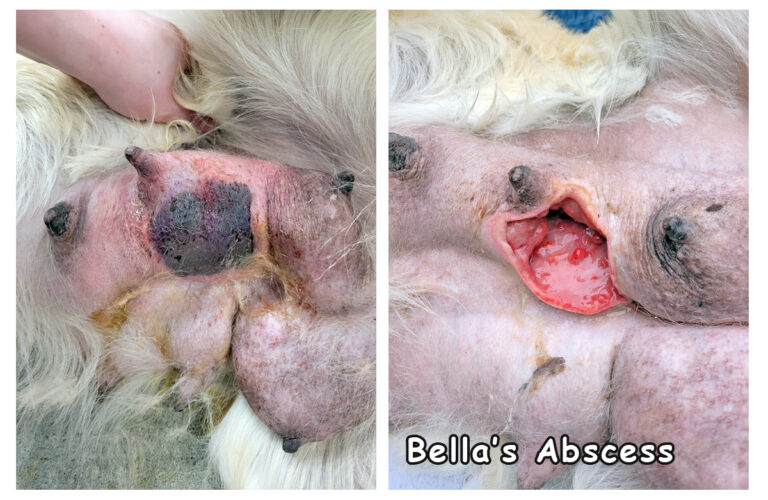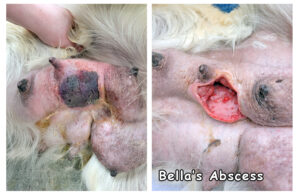 Back to our amazing foster mom taking care of the pups.  Bottle feeding was happening but she was concerned about one pup who really wasn't getting much food and sleeping way too much.  She wakes up to find one of the puppies has passed away overnight and she is very concerned now for the one puppy not eating well.  Off to the Emergency Vet we go with Pepa (female puppy) where we find out that she is anemic and her only chance for survival is a blood transfusion and even with that it's a 50/50 chance of survival.  As is the AGA way, do whatever you have to do to save her.  Foster mom is at home with the 7 other pups who are not thriving like Sky's puppies are, so panic sets in and foster mom brings all 7 pups to the Emergency Vet.  All the puppies were anemic and all had worms.  Each one of them had to have at least one blood transfusion, one had to have two blood transfusions.  The vets said that we were very lucky that we didn't lose the whole litter as sick as they were.
Three days later and all puppies are back with the foster and by this time they can start eating gruel mixed with their formula.  Things are starting to look up for all the puppies, except little Bruno doesn't seem to be eating very well and when he does eat he regurgitates his food an hour or so later.  Back to the vet with Bruno pup, who gets some new medication and needs to be fed separately and watched to see if and when the regurgitation stops.  It's been about 8 days now and the regurgitation has stopped and little Bruno is feisty as ever - Don't mess with Bruno!
On Friday, May 27th all of the puppies from Sky and Bella's litters received their first vaccinations and are about a week to two weeks away from being ready for their adoptions.  It has been quite a journey to get here and AGA wouldn't have it any other way.  As you can imagine, the veterinary expenses for these puppies has been enormous and we can't do any of this without the amazing people who care as much about these goldens as we all do.  Our Emergency Vet expenses were just above $18,000.
We also couldn't do any of this without the two most AMAZING foster homes.  Sky's foster parents took her in, whelped her, raised her puppies to the 8 week time period and will have them all adopted.  Bella's foster mom had to go above and beyond with her puppies because of all the emergencies that took place the whole time she had them.  The dedication of these amazing people does not go unnoticed and AGA cannot THANK YOU both enough for the incredible amount of work you put into these puppies!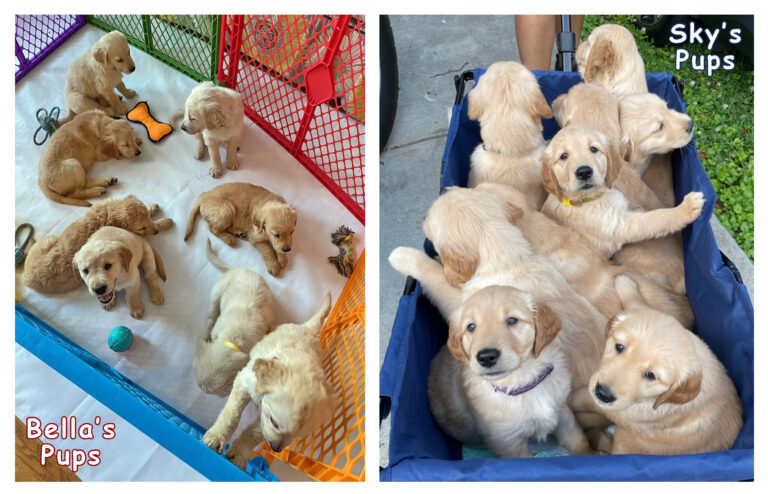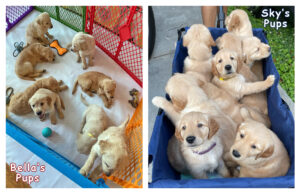 IF YOU'RE LUCKY - a golden retriever will come into your life, steal your heart, and change everything


Thanks for all of your support! As of today, we have raised $

4200

to help this operation.