What Every Prospective 'Parent' Should Know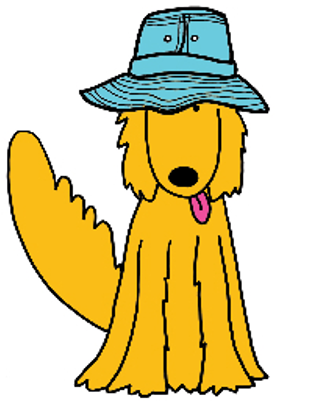 Golden Retrievers are on avg. 75lbs of loving, shedding, attention demanding, constantly retrieving, lap dogs with active tails. They were bred to be hunting companions so they have a strong desire to be a partner and member of the family. For that reason, we require that they be kept primarily inside as a member of the family.


Most male Golden Retrievers weigh between 75-95 pounds and range from 22"-23" at the shoulder. Most females weigh between 55-75 pounds and range from 21"-22" at the shoulder.
Goldens have beautiful coats that shed at least twice a year. Regular brushing and professional grooming can keep shedding to a minimum; don't forget the "toe fur" and the tendancy for the fur to mat behind the ears. There will always be some dog hair on the clothing, furniture and oh yes, occasionally in your food!


All breeds are prone to health problems and Golden Retrievers are no exception. Although Goldens are not unhealthy by nature, and are considered one of the hardier dogs around, they are subject to some genetic disorders and health problems including; ear infections, allergies and skin issues, hip dysplasia, epilepsy and hypothyroidism. A healthy Golden can live up to 14-16 years. Goldens are one of the breeds that cancer strikes at an alarming rate. Many Goldens never experience any of these problems, but better to know in advance what to be prepared for financially.


Obedience training is highly recommended for you as well as your dog. Most trainers will be the first to say, it is you they are training, more so than your Golden Retriever.
Food and routine veterinary care for a Golden can run anywhere from $1000 -1500 annually for a healthy dog. However, one serious illness or accident can cost $1000s. We strongly recommend pet health insurance.


Goldens need lots and lots of daily vigorous exercise. To insure their safety, they need a fenced in area to run.
we require Goldens outside a fenced in area, to be on a leash at all times
AGA Goldens may not be left outside when no one is at home. Adopted goldens may not be left outside all day or all night.
AGA Goldens may not be chained or tied out.
AGA Goldens not be transported in any wide-open vehicle, such as the bed of a truck.
If an AGA Golden cannot be kept for any reason, then the dog must be returned to Adopt a Golden Atlanta, Inc. The dog cannot be sold, or given away. No refunds are offered.


AGA Goldens often come to us because they have problems. Those problems could be related to abuse, but are more often related to neglect. Most of these cases involve young Goldens bought as puppies, who have received no training, and have simply not been taught good canine citizenship. From experience, we know these dogs can be wonderful companions! They require love, patience, guidance, and structure.